Especially for OilyOil, journalist and musician of El Monstrino band Luda Senshova collected some interesting facts about the little-known side of the great musician David Bowie – his great passion for painting.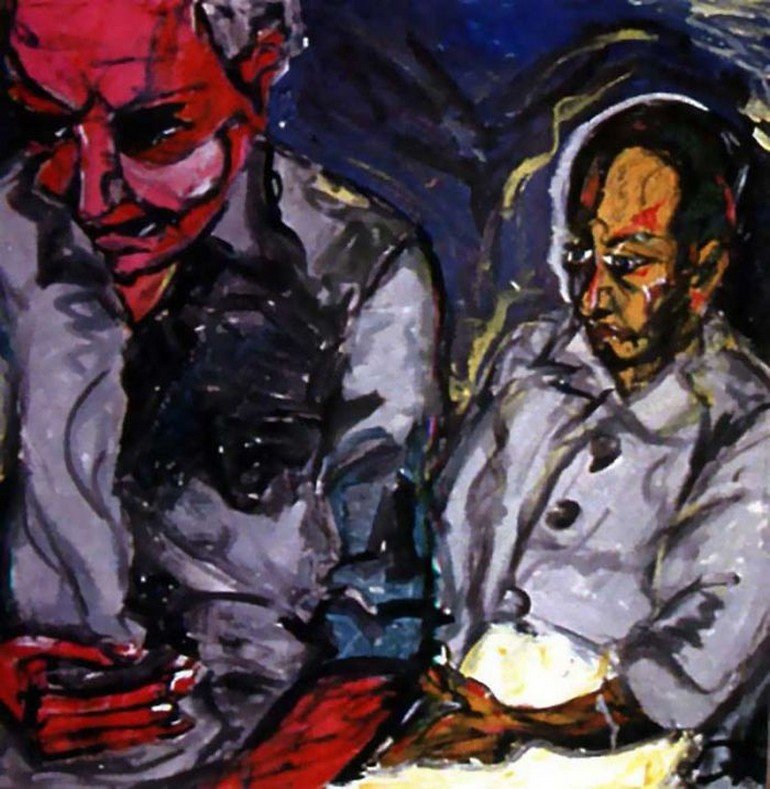 Like all British rockers of that period, David attended art school as a child, studying classical art. And just like everyone else, he did a lot of drawing in his spare time, mostly crazy tour posters for his early bands The Delta Lemons and Bowmen, depicting aliens and frilly futuristic objects.
Few people know, but his own drawings and sketches were subsequently often used to design the covers and tabs of his albums, as well as related details of tours, such as posters, images on tickets, badges, and more.
Self-portrait influenced by Egon Schiele, 1980s
Among his favorite and influential artists, he often named the Austrian expressionist Egon Schiele, the English artist David Bomberg and his students Frank Auerbach and Leon Kosoff, the French avant-garde artist Francis Picabia, the anti-Nazi collagist John Heartfield, and also confessed his love for Marvel comics and surrealism generally.
On the walls in his seven-room apartment in Berlin at Hauptstrasse 155 (he had found himself a beautiful apartment under the attic in the Schöneberg district, at that time it was the American sector of the city), there were many large-sized paintings of him. Subsequently, in an interview, Bowie described this three-year period as the most productive for him as an artist, saying that in those years the creation of music was closely intertwined with the creation of paintings. Then he was inspired by many things – his anonymity and freedom: in Berlin, fanatical hysteria did not reign around his figure, as in Los Angeles. Secondly, the vibrant nightlife of the Dschungel club, Berlin's answer to New York's Studio 54, drugs in large quantities, then getting rid of addiction, shooting in dubious films, and also days and nights in the Hansa recording studio, whose windows overlooked the Berlin wall.
David in his Berlin apartment at 155 Hauptstrasse, above him is a portrait he made of his beloved Japanese novelist Yukio Mishima
Child in Berlin, 1977
Throughout his life, Bowie tried different techniques and, just like in music, was not afraid of experiments, constantly mixing styles and materials. At different times he worked with canvases and acrylics, made stencils, used charcoal, was fond of collage techniques, tried to create light installations, and even made images using x-rays. In the mid-90s, he actively drew in computer programs and, in addition, was fond of sculpture. But he always paid special attention to portraits – as a rule, these were the people around him. His most notorious collaborations were with Damien Hirst and African artist Busy Bailey.
Once, David greatly helped a British publishing house get started by doing a special series of interviews with various artists for Modern Painters magazine at their request. A little later, he was again in the role of an interviewer, talking with Roy Lichtenstein, but this time it was within the traditional section of Interview magazine.
Turkish father and son 1978
Installation Where do they come from? Where do they go? 1996
Since the 1990s, Bowie's work has been exhibited numerous times in galleries around the world. Despite the large number of interested collectors, they rarely appeared on sale, only at charity auctions. At the moment, the musician's paintings are in the family archive, as well as partially in public and private collections.

Bowie also collected paintings. In an interview with the New York Times, he once mentioned that he had a couple of works by Tintoretto and Rubens in his collection. "Art is all I ever wanted to have. It can really change your mood in the morning."
David poses in front of his painting, a portrait of his friend Iggy Popp, 1976. Photo taken in 1990 at the New York Art Expo
William Burroughs, 1974
Iggy Pop around Berlin, 1978
I am a world champion, 1977
Portraits by David Bowie
Author Luda Senshova
In memory of David Bowie, who passed away on January 10, 2016 at the age of 69.
Paintings by David Bowie
David Bowie was not only a great musician, but almost throughout his life he was actively fond of painting.
He started painting back in the 70s, but the public got to know his work in 2013 during the David Bowie Is art exhibition at the Victoria and Albert Museum in London.
VeryPrivateGallery has collected the most notable works of the British singer. His artistic style is influenced by Frank Auerbach, Francis Picabia, David Bomberg and Francis Bacon.
Turkish Father And Son, 1978